The pool is currently closed for the 2022 Season.
The pool is open from April through October each year. All residents in good standing (assessment fees paid) are allowed to access the pool and have up to (4) four guests per household. Access to the pool is provided using an electronic pool tag via a magnetic gate system
The pool is 'swim-at-your-own-risk' and lifeguards are not provided. For your own safety and the safety of the other residents, please familiarize yourself and your family with the Pool Rules and Article A before using the pool.
Pool Schedule
The pool will be open 7 days a week during the summer season. This is an experiment subject to change however we envision the community will be pleased with the arrangement.
The committee requests the cooperation of the community so we can maximize the opportunity to enjoy the facility.
1.) Considering there will be rare occasions for important maintenance, a temporary restriction sign will be posted on the pool gate and include a reopening time. An online posting will also occur. For example: shocking the water may require a short waiting period before re-entry.
2.) In the event the pool contractor arrives to vacuum the pool, we request that swimmers exit the water temporarily in order to allow for effective and efficient service. The pool contractor arrives on Monday, Wednesday and Friday normally between noon and 2:00 PM.
Let's work together to make it a great summer!
For a pool tag application and rules Click Here.
For a pool waiver, & request forms Click Here.
Little Free Library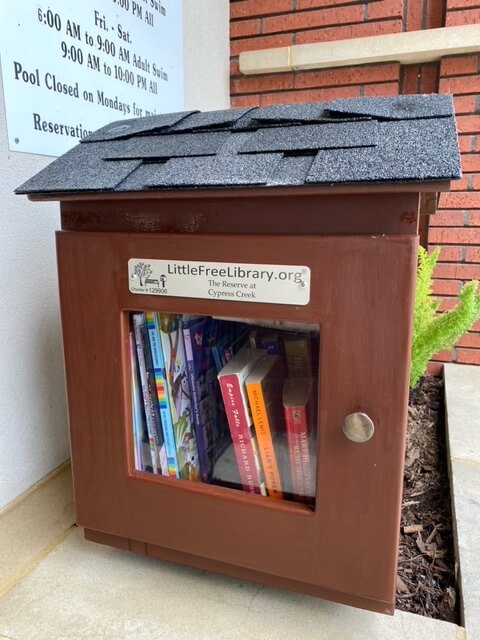 The Reserve at Cypress Creek Little Free Library, Charter 129906, located near the front gate of the pool house, was established on July 25, 2021. It was donated to the community by Miss Stephanie Schaefer.
The library was built by an Etsy advertising carpenter from the Ukraine. Stephanie's father Steven helped her finish it with a roof, staining, and installation. The Little Free Library is open to all and contains a variety of books, magazines, and materials for all ages. Donations are welcome and books are rotated monthly.